How to Create a Container Garden – Made Easy
I was walking through my local organic food store and, as I often do, I stopped and glanced at the non-GMO, organic vegetable seed section. I sighed and quickly walked away saying to myself, "What do you know about vegetable gardening, you'll just kill those poor plants."
So when I saw this infographic about how to grow a container garden on foodrevolution.org, my immediate thought was to share it with all of you. This is a great cheat sheet for the person who has no desire to reinvent the wheel but just wants to eat some quality, home-grown produce.
The good thing about this infographic is that it tells you how to create a container garden – something that almost all of us can do regardless of our available living space.  Here are some quick tips before the infographic: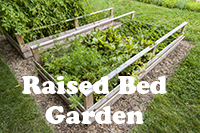 For container gardens, the best choices include cucumber, eggplant and green onion. Avoid dark-colored or treated wood containers, and make sure the plants receive 6 hours of direct sunlight everyday.
How about the leafy greens?  Choose a raised bed garden (see image).  It can be as big or small as the space you can afford. Lettuce, arugula, spinach, endive – these are just some of your salad supplies you could be growing for yourself. You can make the raised bed frame with rocks, brick, wood or cement blocks. For equal light exposure, have the long side of the bed facing south.
You can also create a garden plot if you have the space.  Some plants actually grow better together:  for example, carrots and peas, lettuce, onion, sage and tomato.  So take advantage of their natural tendencies!
The post Infographic: Simple Vegetable Garden Tips appeared first on Food Revolution Network.
via Infographic: Simple Vegetable Garden Tips